About Us
---
OUR TEAM
• Has qualifications from internationally recognized prestigious institutes and universities
• Has diverse professional background and experience
• Our team possesses more than 50 years of collective experience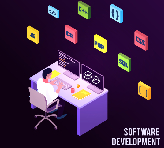 The key personnel of the Swarm Management Team are:
Mohammad Ashraf – Founder Executive Director & Managing Consultant
B.Sc. (PU, Lahore); SDLC (PK/UK/USA); Oracle DB, DWH & BI (PK/UK); EAM, ERP & CRM (UK/USA)
Mr. Mohammad Ashraf has over 44 years of IT experience, mainly in Oil/Gas and Power Generation (Nuclear & Non-Nuclear) sectors. He is proficient in Enterprise Asset Management (EAM - Ventyx PassPort/Asset Suite, IBM Maximo, SAP and Oracle eAM) systems and their integration with each other, EDM (FileNet/Documentum) and Legacy Systems. He also possesses an excellent proven record in SDLC, Unix/Linux, Infrastructure, Oracle Database Design & Management, DWH/BI, Web Services, Website Development, Android/iOS Apps, and Training.

Besides working as a Freelance Consultant, he has also served in the following companies as direct hire:

• Wipro UK Limited (UK Based Offices) : Principal Technical Consultant (EAM - Nuclear)

• ABB/Ventyx UK Limited (UK Based Offices) : Senior/Principal Technical Consultant (EAM/ERP - Nuclear Plants)

• Indus International/Ventyx UK Limited (UK Based Offices) : Senior Technical Consultant - EAM (Oil/Gas, Power Generation/Distribution - Nuclear & Non-Nuclear)

• Bilal Islamic University / Ishaq Memorial Trust Hospital (IMH), Lahore - Pakistan : General Manager, HoD IT & Member Executive Committee (IMH)

• Abu Dhabi Marine Operating Company (UAE) : Lead Systems Engineer & Systems Specialist/Coordinator

• Abu Dhabi National Oil Company for Distribution (UAE) : Senior Systems Analyst

Details of Ashraf's work history can also be seen at the LinkedIn (http://uk.linkedin.com/in/ashrafmohammad).

Working as Senior/Principal Technical Consultant in the UK based organistations, he has performed EAM/ERP/CRM key leading roles in the following countries/companies:

UK: Indus/Ventyx Offices, British Energy and Magnox Nuclear sites
USA: Indus/Ventyx Offices and NextEnergy Power Plants
Canada: BC Hydro Nuclear Plants & Accenture Offices, Vancouver
Italy: AGIP – EniData, Milan
Czech Republic: APP Office - Prague & CEZ Power Plants
Hungary: Paks Nuclear Power Plant & Accenture Office, Budapest
Estonia: Eesti Energia, Tallinn
France: Electricity de France (EDF) Nuclear Power Plants, Paris
Romania: Cernavodă Nuclear Power Plant – CNE
U.A. E.: Abu Dhabi Marine Operating Company (ADMA-OPCO)
Bahrain: Bahrain Petroleum Company (BAPCO)
Kuwait: Kuwait Oil Company (KOC) & Kuwait Gulf Oil Company (KGOC)

Mrs. Farhat Batool – (Hon.) Global Services Director
MBA (Bahria University, Karachi - Pakistan)

Board of Directors for Swarm IT Solutions Limited welcomes Mrs. Farhat Batool onboard as their Director Global Services. Madam Farhat is serving Pakistan Navy since 2010 as a Senior Officer. She has a pleasant personality and possesses rich experience of Executive & Professional Training for Team Leadership and Corporate Development. She has served in the fields of Training, Research & Development, and Business Consultancy in commercial, government and military sectors. Besides delivering professional lectures for senior armed forces officers at their headquarters, she has conducted several Guest Speaker Programs as well at leading business institutes of the country, e.g., National University of Sciences & Technology (NUST).

She was adjudged the Best Trainer in Pakistan Naval Forces for two consective years. She has trained foreign military officers from Turkey, Egypt, Saudi Arabia, Qatar, Kuwait, Oman, Bahrain, Sudan, Bangla Desh, Sri Lanka and Burma. Farhat has designed and imparted professional training in the areas of Leadership & Empowerment, Art of Public Speaking, Managerial Skills, Strategic Management, Entrepreneurship Skills, Innovation & Creativity, Decision Making & Problem Solving, Corporate Grooming, Project Management, Team Building & Workforce Diversity, Workplace Ethics, Change Management, Quality Management, and Crisis Management, etc.

With such a rich experience, Ma'am Farhat Batool will manage, in particular, Training department of this company. She is a resilient and adaptable leader who is enthusiastic for growth and success of a company and clients. Since change is constant and inevitable for the improvement of a company business, Farhat Batool remains flexible to accomplish success thereby.

Fazal Choudhrey - Regional Director (UK & EU)
Mr. Fazal Choudhrey enjoys vast experience of business management and marketing in the UK. Currently, he is in the process of expanding Swarm's operations in Britain and across Europe. His main objective is to create local and international opportunities for young IT graduates of Pakistan and AJK (Azad Jammu & Kashmir). He is keen on imparting our knowledge that we have gathered during the past four decades to the fresh graduates; IT Engineers in particular.

Muhammad Naveed – General Manager (Training Division - Pakistan)
Muhammad Naveed possesses vast experience of Customer Relationship Management (CRM). He has served in the banking sector for more than 15 years. In addition, he has experience of Supply Chain Management. Naveed is an enthusiastic team player. He will help promote company's Training programme in general.

---
OUR EXPERTISE
• EAM/ERP - Ventyx PassPort & Asset Suite, IBM Maximo, Oracle eAM, SAP and many Open Source systems, like ODOO, xTuple, NetSuite, WorkWise.
• System Development Life Cycle (SDLC)
• Energy Trade and Risk Management (ETRM)
• Project Management
• Management of Operating Systems (Mainframes & Unix/Linux)
• Design and Management of Databases – Oracle, SQL Server, PostgreSQL and mySQL
• Data Warehousing & Business Intelligence
• Data Management, Data Load & Migrations
• Systems Integration of Heterogeneous ERP Systems with Doc Management Systems (FileNet, Documentum, etc.) and Legacy Systems
• Infrastructure
• Website Design & Development
• Apps Development
• Content Management
• Technical & Functional Training
• Documentation - Requirements Gathering, Feasibility Study, Hardware Sizing Study, Systems Analysis & Design, Gap Analysis, System Specifications, Program Specifications, Customizations, Technical Plans, Implementation Plans, Performance Plans, Disaster & Recovery Management.