About Us
---
OUR TEAM
• Has qualifications from internationally recognized prestigious institutes and universities
• Has diverse professional background and experience
• Our team possesses more than 50 years of collective experience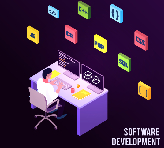 The key personnel of the Swarm Management Team are:
Mohammad Ashraf – Founder / Managing Director
B.Sc. (PU, Lahore); SDLC (PK/UK); Operating Systems - VME/B, z/OS & UNIX (UAE/UK), Oracle DB, DWH & BI (PK/UAE/UK); EAM/ERP (UAE/UK/USA)
Mr. Mohammad Ashraf has over 44 years of IT experience, mainly in Oil/Gas and Power Generation (Nuclear & Non-Nuclear) sectors. He is proficient in Enterprise Asset Management (EAM - Ventyx PassPort/Asset Suite, IBM Maximo, SAP and Oracle eAM) and Energy Trade & Risk Management (ETRM) systems and their integration with each other, EDM (FileNet/Documentum) and Legacy Systems. He also possesses an excellent proven record in SDLC, Unix/Linux, Infrastructure, Oracle Database Design & Management, DWH/BI, Web Services, Website Development, Android/iOS Apps, and Training.

Besides working as a Freelance Consultant, he has also served in the following companies as direct hire:
• Wipro UK Limited (UK Based Offices) : Principal Technical Consultant (EAM - Nuclear)
• ABB/Ventyx UK Limited (UK Based Offices) : Senior/Principal Technical Consultant (EAM/ERP - Nuclear Plants)
• Indus International/Ventyx UK Limited (UK Based Offices) : Senior Technical Consultant - EAM (Oil/Gas, Power Generation/Distribution - Nuclear & Non-Nuclear)
• Bilal Islamic University / Ishaq Memorial Trust Hospital (IMH), Lahore - Pakistan : General Manager, HoD IT & Member Executive Committee (IMH)
• Abu Dhabi Marine Operating Company (UAE) : Lead Systems Engineer & Systems Specialist/Coordinator
• Abu Dhabi National Oil Company for Distribution (UAE) : Senior Systems Analyst

Details of Ashraf's work history can also be seen at the LinkedIn (http://uk.linkedin.com/in/ashrafmohammad).

Working as Senior/Principal Technical Consultant in the UK based organistations, he has performed EAM/ERP/CRM key leading roles in the following countries/companies:

UK: Indus/Ventyx Offices, British Energy and Magnox Nuclear sites
USA: Indus/Ventyx Offices and NextEnergy Power Plants
Canada: BC Hydro Nuclear Plants & Accenture Offices, Vancouver
Italy: AGIP – EniData, Milan
Czech Republic: APP Office - Prague & CEZ Power Plants
Hungary: Paks Nuclear Power Plant & Accenture Office, Budapest
Estonia: Eesti Energia, Tallinn
France: Electricity de France (EDF) Nuclear Power Plants, Paris
Romania: Cernavodă Nuclear Power Plant – CNE
U.A. E.: Abu Dhabi Marine Operating Company (ADMA-OPCO)
Bahrain: Bahrain Petroleum Company (BAPCO)
Kuwait: Kuwait Oil Company (KOC) & Kuwait Gulf Oil Company (KGOC)


Dr. Saima Naeem Ashraf – (Honourary) Senior Director
Doctor of Medicine (MD) Degree from Ovidius University, Romania;
Professional Diploma in Ultrasound (Medicine) - Post Graduate Medical Institute - Lahore, Pakistan;
DCPS (Healthcare System Management) - College Of Physician & Surgeons - Karachi, Pakistan;
Professional Diploma in Career Development - Dubai, UAE

Dr. Saima Naeem enjoys a vast international experience mainly in healthcare organisations. She is determined and responsible, with more than 20 years of success boosting efficiency and streamlining procedures, focused on overseeing smooth managerial, personnel, and operational facets. Dr. Saima effectively balances targets with resources and optimize long-term success.

Her skillset encompasses Performance Improvement, Decision-Making, Background Investigation, Recruiting Prowess, Personality & Career Testing, Career Development Planning, Task Delegation, Event Management, etc.

Besides discharging her duties as Medical Officer / Senior Medical Officer in the Government Hospitals of Karachi, Rawalpindi, Sheikhupura and Lahore, Dr. Saima has earned fame at Managerial levels in the following institues, hospitals and universities:
* 2004 - 2006 : Vice Principal - Vocational Training Institute (VTI), Sheikhupra - Pakistan
* 2007 - 2009 : Principal - College Of Nursing, Murshid Hospital Care Centre, Karachi - Pakistan
* 2008 -2009 : GP & Administrator - Al Shifa Clinic, Karachi - Pakistan
* 2010 -2013 : Deputy Manager - R.A.K Medical and Health Sciences University, Ras Al Khaimah - UAE
* 2015 -2019 : Visiting Counselor - Sharjah Humanitarian Services, Sharjah - UAE
* 2019 - Present : Freelancer - Pakistan Institute of Medical Advancement, Karachi - Pakistan

She is running and managing succesfully her own international busincess for the past 15 years. She has joined our Board of Directors on honourary basis. We anticipate to benefit from her extensive experience of Management and Administration.


Rafed Naeem Ashraf – Manager Technical Services
BS Computer Science - FAST National University of Computer & Emerging Sciences - Karachi, Pakistan

Board of Directors at Swarm IT Solutions Limited welcomes onboard an energetic Computer Science undergraduate, Rafed Naeem Ashraf. He will discharge his duties as Manager Technical Services.

Rafed has a pleasant personality and is an adaptable leader. He accepts positive change as constructive and considers other people's concerns during day to day operations. Rafed Naeem has an uncanny eye towards detail. His passion towards smooth running of the company processes would certainly lead to qualitative as well as quantifiable achievements. He is a keen learner and always welcomes new ideas. We anticipate to learn and gain a lot from the energetic approach of Rafed.

---
OUR EXPERTISE
• EAM/ERP - Ventyx PassPort & Asset Suite, IBM Maximo, Oracle eAM, SAP and many Open Source systems, like ODOO, xTuple, NetSuite, WorkWise.
• ETRM - Ventyx Energy Trade Risk Management System.
• System Development Life Cycle (SDLC)
• Energy Trade and Risk Management (ETRM)
• Project Management
• Management of Operating Systems (Mainframes & Unix/Linux)
• Design and Management of Databases – Oracle, SQL Server, PostgreSQL and mySQL
• Data Warehousing & Business Intelligence
• Data Management, Data Load & Migrations
• Systems Integration of Heterogeneous ERP Systems with Doc Management Systems (FileNet, Documentum, etc.) and Legacy Systems
• Infrastructure
• Website Design & Development
• Apps Development
• Content Management
• Technical & Functional Training
• Documentation - Requirements Gathering, Feasibility Study, Hardware Sizing Study, Systems Analysis & Design, Gap Analysis, System Specifications, Program Specifications, Customizations, Technical Plans, Implementation Plans, Performance Plans, Disaster & Recovery Management.